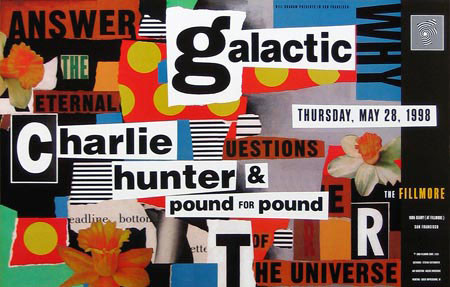 I have been able to incorporate typographic collage into printed graphic designs on two memorable occasions. Most of my collage work is created as fine art on canvas or board. Chronicle Books Giftworks and the Fillmore Theater, both approved type collages for the two printed pieces displayed here. Another project, for an Absolut vodka ad, sadly never got off the ground.
This collage approach was fairly controversial at Bill Graham Presents in San Francisco, and the poster probably ranks as one of the oddest pieces in the history of the fabled Fillmore venue. For a number of years, it was hanging in the upstairs balcony at the theater, one in a multitude of mind-bending posters from that grand tradition. BGP made me tone down the color quite a bit, which I was not happy to do. The randomness of the collage process resulted in the polka dotted guitar that appears behind the Galactic moniker, a good argument for letting your unconscious loose a bit.
The design for The Observation Deck, by Naomi Epel, printed beautifully and sold well, even pleasing the author.  My collage style was used on the cover of the paperback book within the boxed set. AIGA liked the cover enough to include it in their 50 books selection.