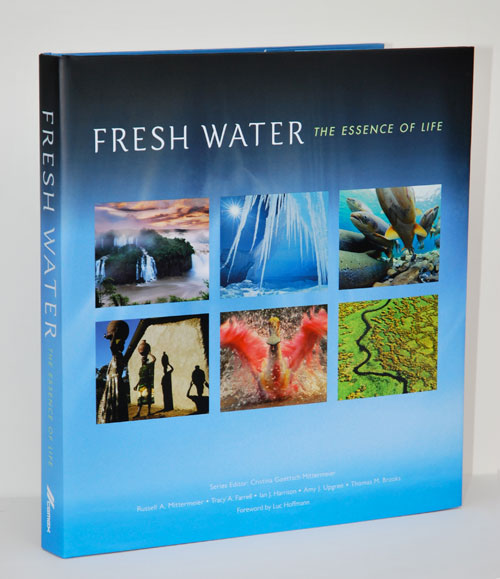 Earth in Focus Editions is publishing a new, large format photography book, filled with amazing images culled from the collections of  International League of Conservation Photographers. Fresh Water–The Essence of Life, catalogs in great detail, the state of this precious resource on the planet.
From top to bottom, the photos above show: A great egret in Yucatan, Mexico, photographed by Claudio Contreras Koob; Katydid drinking, also in Mexico by Claudio Contreras Koob; Atlantic salmon in Sweden by Michel Roggo; Training cormorants to dive for fish by Art Wolfe; Searching for water in Mali, by Karen Kasmauski (left); Melting ice in Greenland by Chris Linder.
Weighing in at a hefty 300 pages, the design and production of this book took about 6 months. Abbie Williams, publisher of EIFE, again maintained the vision. Jerry Dodrill worked through our summer heat waves to ensure exact color reproduction; Nicole Parizeau, esteemed colleague from (now defunct) Whole Earth magazine, copy-edited the voluminous text; Legend Color in China did a phenomenal print job. Justin Black, Sarah Claxton, and Cristina Mittermeier at iLCP all contributed substantially.