The Sonoma Mountains are a small, isolated range between the Sonoma Creek and Petaluma River drainages. Sonoma Mountain (called Oonapais by the Coast Miwok, which probably means "Buckeye Mountain") is the dominant feature of the range, rising to 2,463 feet, with views of the Pacific Ocean directly to the west.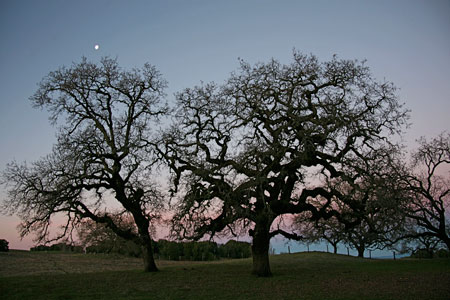 Sonoma Mountain Ranch Preservation Foundation is dedicated to preserving the natural beauty and biodiversity of the Sonoma Mountain area, and providing education and guidance, through research, for the preservation and enhancement of agricultural, natural, scenic, and open lands. The Foundation promotes best grazing practices and management activities that preserve, steward, and enhance Foundation land and maintain habitat for special-status species present there.
Over the last year, I have hiked the 630 acres of the ranch, tended the small goat herd, photographed wildlife and landscapes in all seasons, and designed the new website in WordPress. It has been an unforgettable immersion in a stunning environment that is often harsh, always beautiful. I surprised a bobcat poised to capture a gopher early one morning.
Using WordPress as the platform for their website makes abundant sense. WordPress allows the graphic designer to create a great looking base for photography, data, and informational text, while the Content Management System allows the tiny Foundation staff to update their site easily, in their own timeframe.
photos ©Stefan Gutermuth 2015